Late last year, it was clear to us as we listened to our clients that a correction in the US markets was a primary concern. There also seemed to be a prevailing wisdom that such a correction, if it occurred, could likely lead to a bear market. While we do not allow the news or anyone's feelings about markets to influence our investment decisions, we do use them to inform what we analyze and write about. This led to a question. (In my best Dwight K. Schrute voice) "Question: do sharp declines in US Equities act as a precursor to bear markets? False!" The data says they do not.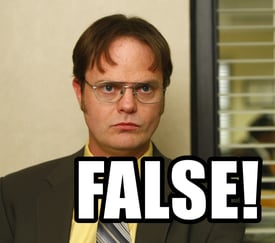 Our timing was fortuitous as on January 31st we released a blog entitled "What the Data says about Market Crashes." Two days after the blog was published, the S&P 500 Index dropped over 2% followed by a 4% decrease. By February 8th, the S&P reached correction status, falling over 10% from the high set on January 26th. Over the following seven months, it has been interesting to watch the market in real time against the backdrop of our analysis.
On August 24th, the S&P officially closed out this drawdown by making its first new all-time high since the end of January. Thus, we thought an update was in order. The fundamental idea of our initial piece was to see what the historical data says about sharp price declines - when they occur, what happens next, and whether a price-focused process can help.
In our analysis, we found that steep declines occur in two places – near an all-time high OR within an already falling market. Moreover, declines occurring near a market high are not a precursor of future poor market performance (2018 being the latest example). In fact, there was only one instance in almost 70 years where this condition preceded a 20%+ drawdown – the October 1987 market crash.
To perform our analysis, we examined the largest weekly declines in the S&P 500 since 1950. We then segmented the worst 40 weeks of performance during that period, defined as weekly losses of just over 5% or more. We chose to focus on the bottom 10 weeks to simplify the analysis as we found that more observations did not impact the conclusions. And in case you're wondering, the market declines experienced in early 2018 would not be included in the worst 40 weeks.
The practical result of our study is, according to the data, one type of price shock can be ignored (those near a top) and the other can be avoided with a thoughtful systematic process focusing on price (those occurring in a declining market). Moreover, shocks occurring within an entrenched bear market are much more damaging to advisors; a great advisor can help clients stay the course, but only for so long. Eventually, the long slow drop and agonizingly sluggish recovery erodes investor confidence, causing clients to seek shelter in cash or an alternative perspective from other advisors. As our most recent blog highlights, effective portfolio "shock absorbers" should be in place prior to the occurrence of declines, not during or after.
This study illuminates the importance for advisors to combine their goals-based methods on the advice/planning front with a goals-based asset management approach. Like all businesses, advisors face fixed and variable inputs for their businesses. Market performance is a variable input. Blueprint's goal is to turn this variable input into a more predictable component without sacrificing liquidity, cost, control, or transparency.
Whether the market is experiencing a shock or a crash, a proactive strategy with which to manage portfolio risk is the best approach. Within the confines of a disciplined strategy, an advisor can provide thoughtful guidance and a longer-term view to their clients.
---