With global equity markets continuing to trade at all-time highs, most astute advisors are seeking downside protection. The recent bull market in U.S. stocks entered its 10th year and the concern over a large drawdown or even an overnight price shock is also reaching tangible levels. As systematic managers, we rely on the data to cut through the emotional biases of such environments and provide context and balance to the situation. After over a decade of examining data on many different assets from equities to bonds, metals to agricultural products and even used-auto prices, one of the constants is that we believe there are two distinct forms of market declines – sustained declines in value and temporary price shocks. Sustained declines in value can take several months or years to develop before reaching an eventual trough. On the other hand, we define a shock to be a rapid decrease in the price of an asset, usually over a few days or, at most, a few weeks.
Interestingly, as we believe the following data will illustrate, price shocks seem most likely to occur during one of the following:
A steady bull market, or

Deep within an entrenched bear market
Table 1 illustrates the timing of price shocks in the S&P 500 and when they occur relative to the index's prior performance. For example, if you look at the worst 10 weeks in the S&P 500 Index since 1950 you see that 8, or 80%, occur when the preceding drawdown[0] was less than 2% or greater than 20%. In fact, 3 of the 10 (30%) worst weeks in the S&P 500 occur after the index declined approximately 40% or more from its recent peak. This means that a majority of price shocks occurred after the market had already fallen significantly or was within 2% of its all-time high. Below is a summary of the top 10 worst weeks and their drawdown coming into the week in question.
Table 1: Worst 10 weeks for the S&P 500 and its preceding drawdown (Jan '50 – Dec '17)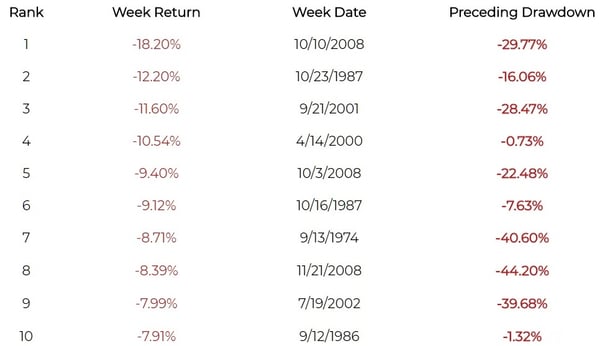 Past Performance is not indicative of future performance.
Sources: Blueprint calculations, based on data from Global Financial Data (GFD) and Commodity Systems, Inc. (CSI)
Sustained Declines, Not Shocks, Are the Enemy of Compounding
To examine this point further, we reviewed the characteristics and timing of all drawdowns in the S&P 500 greater than 20% (or worse) since 1950. Surprisingly, the S&P has experienced only 9 unique[1] drawdowns of 20% or more over the past 68 years. Below is a summary of those 9 occurrences (Table 2). In 8 of 9 cases, the 20% drawdown took over 100 trading days to develop. Interestingly, only 6 of the 9 are associated with a recession as defined by the National Bureau of Economic Research. To further illustrate the nature and timing of these drawdowns, we have included two trend following methodologies and their exit signals in the context of the S&P's respective drawdown.
Table 2: S&P 500 - Characteristics of 20% Drawdowns and corresponding trend following exit (Jan '50 – Dec '17)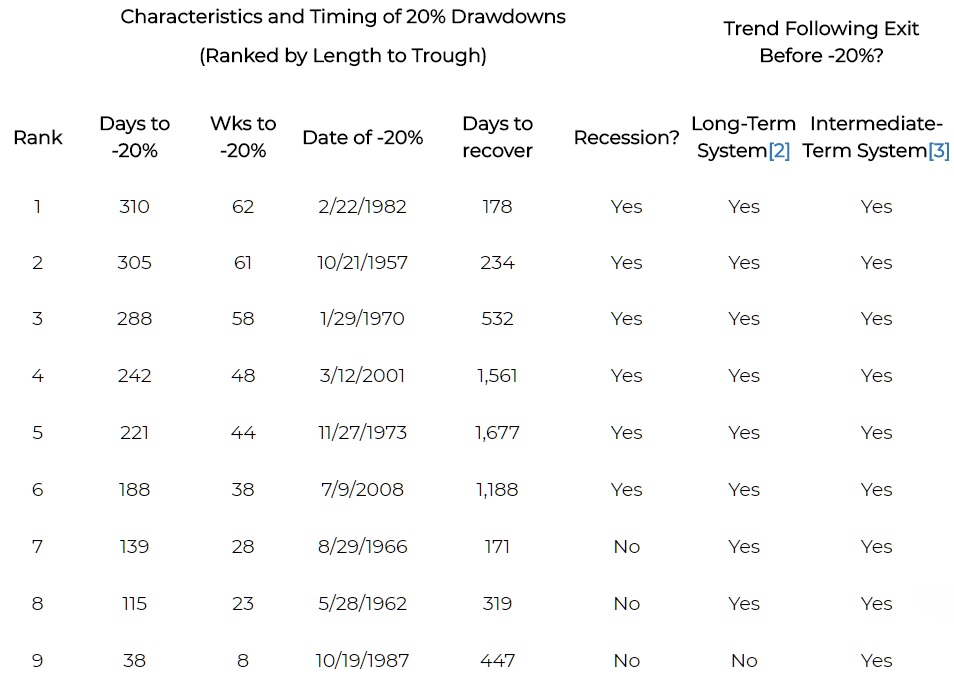 Past Performance is not indicative of future performance.
Sources: Blueprint calculations, based on data from Global Financial Data (GFD) and Commodity Systems, Inc. (CSI)
Now let's bring these two data points together. With the exception of 1987, none of the largest weekly declines in the S&P 500 led to a 20%+ drawdown. Furthermore, in each of those cases (sans '87), the trend following strategy had already exited the market prior to it hitting a 20% drawdown. Advisors we speak with fear price shocks as a pre-cursor to "bear markets" or sustained declines in value. However, the data shows that sharp declines are rarely an indicator of future poor performance.
Historically, the real declines that Advisors should fear happen slowly and without fanfare. They last longer than anyone expects and take a long time to recover. Consider the recovery times of 2001, 1973, and 2008 in the table above. That's an average of almost 1500 trading days to recover. The price shocks that occur in the latter stages of these bear markets are when clients are more prone to fire their advisor and move into money market accounts. This is the type of downside from which we are seeking to protect and according to the data can be totally preventable.
Designing Strategies with the Advisor in Mind
At Blueprint, we focus on diversification as our primary risk management tool. This is accomplished using two types of diversification: Asset and Time diversification. Asset diversification is explained by modern portfolio theory and seeks non-correlation as its primary risk management function. Time diversification, or trend following, depends on the price trend of an asset as its primary risk management tool. As portfolio managers, we must first define from what we are seeking to reasonably and repeatedly protect clients. In our case, the scope of protection is from anything that would cause the end client to miss his/her long-term financial goal. If we can dissect the markets to understand where the real risks exist, that provides an enormous advantage to us and our clients. As risk managers it is also critical that we understand the types of markets in which we can expect to excel and those where we might lag. Doing so allows us to communicate with our client – the advisor – so they can pass that knowledge on to their client – the end user. So, in the case of temporary price shocks and sustained declines it is important that in all cases but 1987 in the table above, even a relatively longer-term Trend Following system would have reduced exposure well in advance of a 20% drawdown.
The more astute advisors we meet will initially question the ability of trend following to handle market shocks. They wisely perceive that price shocks might lead to a reduction in exposure just before a rebound in the market. These periods inevitably occur and highlight the importance of time frame selection. At Blueprint we utilize price trends over multiple time frames to reduce the impact of any one set of market conditions, attempting to:
Reduce the severity of drawdowns in account value, thereby

Preserving compounding, while also

Participating in bull markets - for as long and as much as possible
Moreover, we shy away from shorter-term systems. Using longer time frames helps avoid a few potential headaches for advisors by reducing the probability of short-term capital gains[4] and noisy[5] statements. Relative to price shocks, it allows us to create a trend following plan that will either a) ignore a price shock as market noise or b) react well before the shocks occur.
Below is a visual that illustrates the tradeoffs between increasing the probability of protection against downside without sacrificing all tax efficiency. Shorter-term systems that react on only a few days of price information can be overly responsive to market conditions and thus likely to be out of the market quickly (risk-off). The cost is that almost all gains generated would be short-term and taxed as ordinary income in a taxable account. On the other end of the curve, longer-term systems are very tax efficient but offer relatively less robust downside protection. Given these characteristics and the data presented above, we employ time frames that attempt to maximize tax efficiency while also avoiding those conditions where price shocks matter most – large drawdowns. The best of both worlds.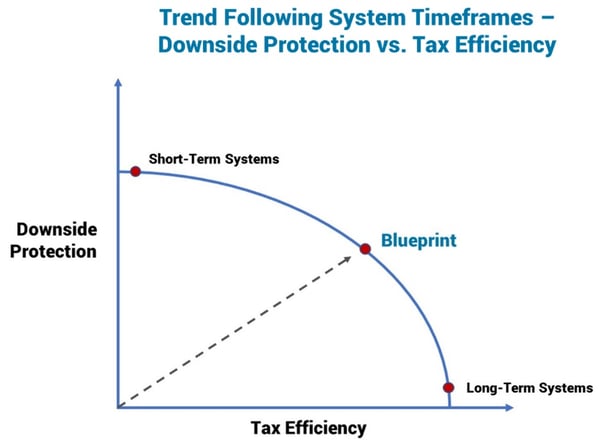 Rising Above the Emotional Fray
Like any event that causes fear among the crowd, market shocks make for good news oriented 'click bait' and thus the thought of them is difficult to escape. Even when volatility is near historic lows, there seems to be constant chatter about an impending drop, particularly when market mania is evident in almost every risk asset.
Fortunately, the data shows that price shocks are not necessarily something to fear – they are not the catalysts of bear markets. They either represent routine bull market behavior or happen so deeply into bear markets that a robust Trend Following strategy will avoid them almost entirely. It is a sustained decline in value, which occurs slowly and lasts for many months, or even years, that Advisors should focus on in terms of downside protection. These are precisely the types of markets that we target with our process and fortunately where time diversified strategies excel. We are not hoping for a market crash, but we believe we know exactly what they look like. And more importantly, how to step aside of the correction in the most effective and efficient manner.
--------------------
[0] The percentage decline from the previous all-time peak to subsequent trough
[1] We are defining unique as a 20% decline (or more) from the previous peak to the next high so multiple recoveries that do not result in a new high before declining back below 20% would only count as one drawdown.
[2] Long-Term System: If the 50-Day EMA is above the 200-Day EMA, this represents an "up trend," and the asset is bought or held; if it is below, it is considered a "down trend," and the asset is liquidated.
[3] Intermediate-Term System: If the 10-Day EMA is above the 100-Day EMA, this represents an "up trend," and the asset is bought or held; if it is below, it is considered a "down trend," and the asset is liquidated.
[4] More on this in a future blog
[5] Noisy = high turnover and transaction costs
---
Blueprint Investment Partners is an investment adviser registered under the Investment Advisers Act of 1940. Registration as an investment adviser does not imply any level of skill or training. The oral and written communications of an adviser provide you with information about which you determine to hire or retain an adviser. For more information please visit adviserinfo.sec.gov and search for our firm name.

Information obtained from third-party sources is believed to be reliable though its accuracy is not guaranteed.

Information contained on third party websites that Blueprint may link to are not reviewed in their entirety for accuracy and Blueprint assumes no liability for the information contained on these websites.
This website and the data herein is not a solicitation to invest in any investment product nor is it intended to provide investment advice. It is intended for information purposes only and should be used by investment professionals and investors who are knowledgeable of the risks involved. No representation is made that any investment will or is likely to achieve results comparable to those shown or will make any profit at all or will be able to avoid incurring substantial losses. While every effort has been made to provide data from sources considered to be reliable, no guarantee of accuracy is given. Historical data are presented for informational purposes only. Investment programs described herein contain significant risks. A secondary market may not exist or develop for some investments portrayed. Past performance is not indicative of future performance.
Investment decisions should be made based on the investors specific financial needs and objectives, goals, time horizon, tax liability, risk tolerance and other relevant factors. Investments involve risk and unless otherwise stated, are not guaranteed. Be sure to first consult with a qualified financial adviser and/or tax professional before implementing any strategy discussed herein. Investors should consider the underlying funds' investment objectives, risks, charges and expenses carefully before investing. The Advisor's ADV, which contains this and other important information, should be read carefully before investing. ETFs trade like stocks and may trade for less than their net asset value. Blueprint Investment Partners, LLC ("Blueprint" or the "Advisor") is registered as an investment adviser with the United States Securities and Exchange Commission (SEC). Registration does not constitute an endorsement of the firm by the SEC nor does it indicate that the Adviser has attained a particular level of skill or ability.
Indexes are unmanaged and do not incur management fees, costs, and expenses. Blueprint's risk-management process includes an effort to monitor and manage risk, but should not be confused with and does not imply low risk or the ability to control risk. There are risks associated with any investment approach, and Blueprint strategies have their own set of risks to be aware of. First, there are the risks associated with the long-term strategic holdings for each of the strategies. The more aggressive the Blueprint strategy selected, the more likely the strategy will contain larger weights in riskier asset classes, such as equities. Second, there are distinct risks associated with Blueprint Strategies' shorter-term tactical allocations, which can result in more concentration towards a certain asset class or classes. This introduces the risk that Blueprint could be on the wrong side of a tactical over-weight, thus resulting in a drag on overall performance or loss of principal.
International investments may involve additional risks, which could include differences in financial accounting standards, currency fluctuations, political instability, foreign taxes and regulations, and the potential for illiquid markets. Investing in emerging markets may accentuate these risks.
Diversification strategies do not ensure a profit and do not protect against losses in declining markets.