Word Count - 703
Approximate Reading Time - 3.5 minutes


So much has been written about the consumption of TD Ameritrade by Schwab that we hesitated to say anything on the subject. However, our experience with elite advisors, investment platforms (TAMPS), and larger RIA consolidation firms leads us to the conclusion that this transaction is just the tipping point in the changing world of custody, and that now is the time for advisors to take a strategic look at all their options.
Occam's Razor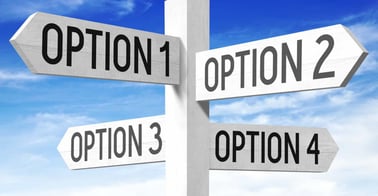 Mental models have become all the rage, as writers and podcasters are writing about 'razors.' These are principles or rules of thumb that allow you to eliminate ('shave off') unnecessary explanations or actions, when making a decision. Occam's razor is a principle from philosophy and perhaps the most well-known razor. Suppose there exist two legitimate options to solve a problem; according to Occam, the one that requires the least amount of assumptions is usually correct. This seems reasonable, and often I am inclined pursue the least complicated path when choosing a direction. As a quick aside, Blueprint utilizes Occam's and other logical razors in the development of investment strategies and models as well.
Options and Decisions
What does Occam's Razor have to do with Schwab/TD – or what some in the industry have dubbed Schwabitrade? Well, the custody industry would have advisors believe that your choices are simple, and that a decision about a custody partner is a primary consideration in the future of your practice. So, Occam would have you list the options, compare the relevant features and benefits of each, then make the singular choice. And by the way, we are ecumenical when it comes to the custodians – Blueprint supports them all. But from an advisor's perspective, the choice is not that simple, and pursuing a simple decision model to make a choice between the options may not serve them well long term.
Industry Evolution or Revolution?
There are good reasons mergers are necessary in the custody space. One is Zerocomm, another is technology. The industry, led by Schwab (or in a smaller way, Robinhood), eliminated hundreds of millions of dollars in revenue over the last two months by reducing most trade costs to zero. The only way to remain profitable is to further scale and reduce costs – which reportedly also means reduced service for many advisors. Technology is also allowing advisors to become custodian agnostic and use multiple solutions efficiently.
But the story does not end here, because technology will continue to evolve and offer the industry more efficient ways to accommodate the necessary recordkeeping and transaction accounting – think BLOCKCHAIN. My partners and I all agree that the next two years could well include more change in the advisor space than the prior twenty – a revolution perhaps.
It's About Your Clients
Custodians appear to have successfully trained the advisor space to focus on them as the center of the industry in terms of structuring a practice. I think clients and advisors will agree that your client should be the (center) hero of your business* and all decisions should emanate from the strategic perspective of how best to serve them. As advisors consider the practice of the future and evaluate opportunities to immunize their business from the coming revolution, the question may not simply be what custodian(s) will serve you best going forward, but perhaps: how do you make decisions today that will allow you to operate efficiently and become less influenced by industry changes long term? How will you serve your hero best?
Your Client Is Your Hero
The challenge is that the noise at the custody level may distract advisors and cause a focus on the wrong options for consideration. The question is not simply which custodian to use. The question is what combination of partners, technology and platforms will allow us to inoculate the business optimally for the inevitable changes, and best serve the HERO.
We are experienced enough to recognize that there are thousands of firms and an overwhelming number of options. But Occam's Razor might tell us that if we focus on the client as the hero of our business, the options will eliminate themselves and the solutions will become very clear.

All of us at Blueprint wish you and yours a blessed and joyous holiday. We are grateful for the relationships we have with all of you, and especially humbled by those that have chosen us as their partner in assembling a 21st century advisory practice.
Best wishes for a Happy New Year. May 2020 be your best year ever!
---
For more thoughts on ways to evolve your advisory practice and take advantage of technology and platforms to make your client your hero, visit www.blueprintip.com
*Recommended reading:
Building A Story Brand by Donald Miller