The 2021 NFL Draft, which begins tomorrow, is expected to highlight more than ever that quarterback is arguably the most important position in all of sports.

If we stick to football and assume QB is indeed the most important role, what is second? Many cases can be made, but if money talks, then shouldn't the answer be found in how NFL teams invest their hard-capped dollars?

And if so, what lessons can advisors take from this to improve their practices?

Investing in Protecting Your Blind Side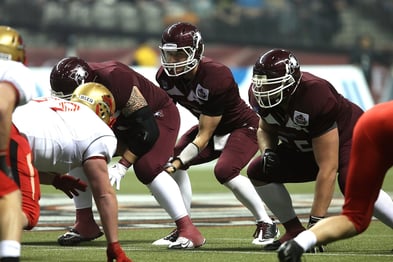 In tomorrow's draft, some trio out of Trevor Lawrence (Clemson), Zach Wilson (BYU), Mac Jones (Alabama), and Justin Fields (THE Ohio State University) are expected to go 1, 2, 3 to the Jacksonville Jaguars, New York J-E-T-S, and San Francisco 49ers. This comes only a few months after Tom Brady took a team that missed the playoffs in its previous season, when they played without him, to Super Bowl Champions.

But, back to the question: What's the second most important position?

Well, a QB needs weapons, so surely it's his receiving corps led by a dominant wideout, right? Or perhaps it's a tight end like Rob Gronkowski, Travis Kelce, or George Kittle who can space the field for others while also pulling blocking duty? Maybe it's on the defensive side of the ball, with a disruptive pass rusher who can put pressure on the QB to offset his value to the offense?

Yet, if we look at where NFL teams invest their dollars, the answer to this question is the left tackle position (i.e,. the offensive line position protecting the right-handed QB's "blind side").

Nameless and Faceless
When looking at average salary by position, the position protecting the QB's blind spot is the second most valuable, according to Spotrac, a go-to source for professional sports contract and salary data.

Surprised? Me too. Try to name the quarterback for your favorite team, or the top receiver or running back. Now, can you name either of your team's offensive tackles without at least pausing? I couldn't either.

Pivoting to advisors…with yields rising along with inflation, plus plenty of bubble talk going around as we live in year 13 of the longest bull market in history, are you appropriately investing in protecting your blind side? If the advisor is the quarterback of an advisory firm, then what is the equivalent of their left tackle?

Well, we have built Blueprint to be just that.

Boring but Successful
Sure, advisors can build an arsenal of flashy receivers (ARK, anyone?) or other weapons that offer stellar returns over an arbitrary period of time, but the problem is the data says these historically don't consistently lead to championships and rarely generate dynasties. The Steelers of the 70s, 49ers of the 90s, and Patriots of the last 20years were all dominant in the trenches…boring, but successful.

At Blueprint, we don't consider our strategies boring, but we do believe it is in an advisor's best interest to employ a nameless, faceless, yet dominant left tackle as their investment strategy rather than a receiver who has a breakout year and then fails to contribute in the next. This is how successful NFL teams assemble their squads and how we believe advisors also should manage their practices.

Build Around the Most Important Position
All of this is not to say that so-called skill positions are not important.

NFL teams realize that if you have a great quarterback but no protection, then it's difficult to get the ball into the hands of those skill players. Said another way, skill players can't thrive if the QB is sacked.

Similarly, if an advisor is talented but can't protect client portfolios by providing a consistent baseline of growth with ample risk management, then it doesn't matter how well some components of the portfolio perform during particular slivers of time.

NFL teams build around the QB and his line, adding skill players that bring plenty to the table without taking anything off. Advisors can do the same by selecting partners that contribute to the overall strength of their practice. We suggest starting by selecting a steady core that includes risk management – like the approach offered by Blueprint – which goes at the forefront. Then, you can add more flashy pieces – like satellite positions in more esoteric alternative strategies, an overweight to Tech, etc. – to supplement performance without sacrificing client goals.

Like NFL franchises, advisory practices face constraints on how they invest their time and other resources. Both must choose wisely to set their team apart from the competition. Whether it is acquiring new talent via the draft or selecting an asset management partner, the present and future of both entities rest on how well they do in these critical decisions. While a few teams thrive by skillfully picking and developing splashy receivers or growth stocks, most succeed by winning in trenches and building a dependable machine around their most important piece – the quarterback and the advisor.

Drop us a note if you'd like to learn more about how to build around your most important position – you! – with Blueprint.
---