I returned from a nice long visit to Paris last week, relaxed and without a care in the world. Then I read the news. Yesterday, an investment banker told me he was worried about the Four T's - Trump, Tariffs, Trade and Turkey. Blueprint is not a macro firm and makes no economic pronouncements, but if your investment portfolio has been riding the wave of up-vol and peak beta (yes, volatility goes in both directions), it is time to make sure that your portfolio includes strategies that will buffer the down-vol, because it is inevitable. A former colleague likes to call these "shock absorbers". Have you ever ridden in a car without good shocks? It is not comfortable.
Blueprint learns what the advisor community is thinking through our many conversations with current and potential advisor clients. We hear anecdotally the concerns voiced by their clients as well. Recently the conversations have centered on how clients will behave when the volatility finally returns. Most advisors vividly recall the last financial crisis, and want to be proactive. Either as it relates to the client experience or to the value of their business, down-vol is on their minds.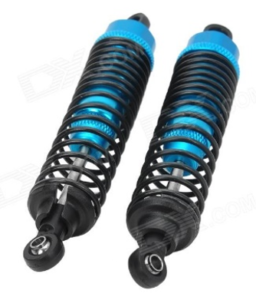 The industry has created a set of instruments known as liquid alternatives, which seek to provide the uncorrelated returns that ostensibly offer the shock absorber effect referenced above. Last fall my colleagues wrote An Alternative to Liquid Alternatives, which admittedly is a well-researched case for using Blueprint strategies. However, the paper addresses the concept of, and need for, alternatives in a very thoughtful way. It is worth a read.
For the Blueprint team, the most important element of the risk management process is price. Price is everything. By that, we mean that the established market value of the asset reflects all relevant information in the market. We utilize systematic trend following methodologies both as a means to mitigate risk and as a dynamic asset allocation engine, which is in our opinion the best approach to consistently take advantage of opportunities and sidestep risks. Back to our analogy, you don't notice good shock absorbers on a smooth highway, but they help make the ride much more comfortable when the road is bumpy. Blueprint strategies are designed for the optimum advisor and client experience – a smoother ride.
Having managed money through the last financial crisis we know uncertainty can create paralysis for advisors and retail investors. That is why we seek to mitigate the emotional response to this type of environment with thoughtful and proactive risk management. However, for advisors that is also why it is better to have the allocation decisions made prior to turbulence, rather than during it. In most portfolios, this would include an allocation to liquid alternatives.
Now is the time to be proactive with your portfolios and to check on the shock absorbers!
For more thoughts on ways to evolve your investment strategy visit www.blueprintip.com
Sources: Google (Image)
____________________
Recommended reading:
An Alternative to Liquid Alternatives – blueprintip.com
---