Let's begin with a bold statement: no financial advisor (or asset manager for that matter) has ever been fired for over-communicating with their client. But according to a recent study, a lack of communication is perhaps the easiest way to get replaced. Even the best advisors sometimes forget this. A survey of individual investors reveals that 64% of clients with assets greater than $500K report being contacted "infrequently" or "very infrequently" by their advisor. As we enter the eleventh year of the longest and best performing bull market in U.S. history, there has never been a better time for a proactive review of your client communication strategy.
Clients Want More Engagement!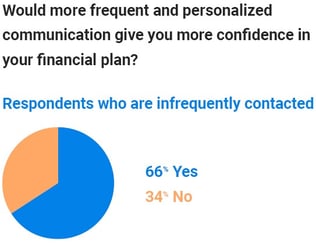 The data shown is from a recent FA Magazine survey that was composed by YCharts entitled, "How Can Advisors Better Communicate With Clients." This study concluded that a majority of advisory clients feel that they are not appropriately engaged. It could be that some advisors are not necessarily forgetting to communicate but, instead, overvaluing what little communication they are providing. Regardless, with the availability of a multitude of highly efficient digital communication channels, a quarterly meeting or monthly check-in might simply be not good enough anymore.
Your Communications and Ideas Are Marketing Tools
To be sure, steady communication is important not just for client retention, but it can also be an advisor's most viable path to growing their business. Consider also that the survey found that "85% of respondents said that communication style would be considered when deciding to retain their advisors, and even more, 88%, said communication would impact whether or not they would refer the advisor's services to someone else." One point to consider is that a referral these days often entails a client sharing their advisor's blog or other resources with a friend or family member. In other words, why not make it easier for your clients to refer you?
The study's authors concluded with some tips for advisors to improve their client communications:
Commit to a cadence – create a rhythm for client communications where blog posts, videos, newsletters, and personalized e-mails are generated regularly and at predictable time intervals.
Create new touchpoints and opportunities – the status quo of client communications is not ideal for most clients, so advisors should increase opportunities to connect to keep themselves, their services, and their value at the top of their clients' minds.
Segment your clientele – some high-value clients will demand more high-touch services and personalized attention, but make sure lower-tiered clients do not slip under the radar as they deserve regular communication as well.
Hone in on understanding clients and their goals – understanding and empathizing with client goals and wishes is the foundation of effective engagement.
Some Practical Applications
Some of these tips are more practical than others. For a mature firm with resources, these items are the bread and butter of a marketing automation system, like Hubspot, Pardot, or Marketo. However, for advisors managing less than $500 million, we recommend focusing on your cadence and touchpoints. To be more specific, start with a monthly blog. If your website is hosted on WordPress or Squarespace, for example, you have all the tools you need, provided you are patient enough to learn how to use them.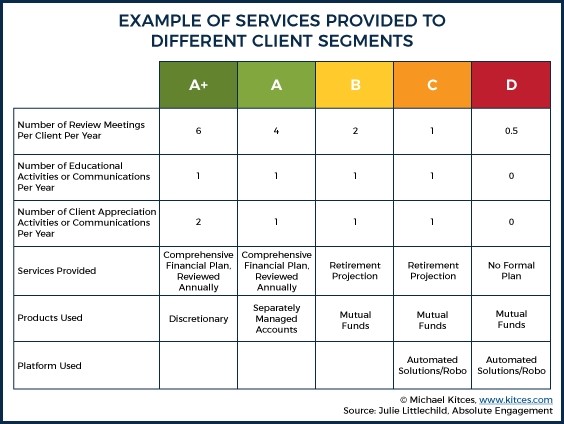 Another practical starting point is to create a content calendar and service matrix based on your different client segments. The matrix above from Julie Littlechild provides a simple, logical framework for having a clear and organized client engagement and communications strategy.
Engage For The Relationship, Not The Formula
"The conversation is not about the relationship – rather, the conversation is the relationship." Author Susan Scott makes this simple yet profound statement in her book, Fierce Conversations. If true, and I believe it is, then the relationships we attempt to form with clients are only as good as the conversations we are having with them, whether digitally, over the phone, or in person. Step one in having these conversations in a consistent, sustainable way is creating a process and/or platform on which to deliver efficiently.
It is best to learn and fail quickly now so that you can go on the offensive during the next recession or large drawdown, rather than playing defense. It's funny, that sounds a bit like applying trend following techniques to your communications strategy as well. At Blueprint we believe everything about your practice can be systematic and rules-based. Like the matrix above illustrates, client service and communications should be planned and executed regularly.
Announcement: We are producing a white paper called "The Elite Advisor Playbook" that will summarize advisor best practices and techniques. To receive it when ready later this month, click the banner below and we will put you on the short list!
---