"Nowadays people know the price of everything and the value of nothing."
Lord Henry Wotton, A Portrait of Dorian Gray by Oscar Wilde

While Wilde's masterpiece was published in 1890, there's much about it that feels prescient today. This quote in particular calls into question the futility of yearning for the possession of material things. Sticking with the theme of 19th-century paragons, it was in 1899 that economist Thorstein Veblen coined the term "conspicuous consumption" in his most famous work, The Theory of the Leisure Class. Veblen's concept can be illustrated by the desire to drive a luxury car rather than an economy car. Though both serve the exact same function, the former calls to attention the apparent affluence of the driver. Both Wilde and Veblen would likely agree that the price of this good exceeds its actual value.

Superior financial advice, however, has exactly the opposite relationship between price and value.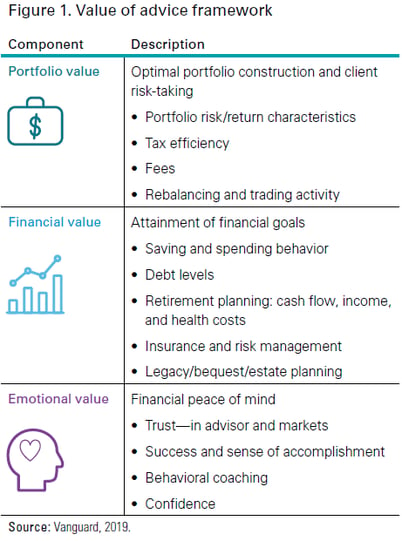 Most savvy investors would agree that the value of retaining an elite financial advisor far exceeds their price. Still, if trying to determine the value of material possessions is a somewhat nebulous exercise, try determining the value of something intangible, like advice. Vanguard attempted to do just that with a recent study that analyzed the impact of financial advice among more than 100,000 participants in its $140 billion AUM Vanguard Personal Advisor Services, a hybrid Robo-advisor that offers live financial planners to clients engaging in their digital advice platform.

In this study, Vanguard created a framework defining three dimensions of potential value for advised investors (see figure 1). Within this framework, the study found that "as much as 45% of the total value of an advisory relationship perceived by investors is derived from emotional elements, while the remaining 55% is derived from functional aspects of the relationship like portfolio management and financial planning."

In other words, this study revealed that, for Vanguard customers, almost half of a financial advisor's value comes from completely intangible attributes of a service that over half of investors already use, according to some surveys.

This could also be interpreted to say that advisors have two primary tasks – managing wealth and managing emotions. One is easy to delegate, or outsource, but the other not so much. It stands to reason that if an advisor can successfully find a partner supporting the functional side of the equation, they can then spend more time managing the emotional elements. And if the functional partnership also helps address or eliminate unproductive emotions, then all the better.

Given that Blueprint's investment methodology is systematic and rules-based, we find these results particularly noteworthy. We believe that a systematic investment process that relies on mathematical objectivity mitigates the emotional aspects of portfolio management and perfectly complements the advisor who endeavors to focus on the management of investor emotion as a primary function.

While Blueprint cannot help your clients avoid overspending on luxury cars or second homes, we do help financial advisors reduce some of the intangibility of their relationships. In turn, this helps clients understand that the value of advice exceeds the cost.



---
For more thoughts on ways to evolve your investment approach and reduce the impact of expenses and trading costs on your portfolios visit our website.