One hundred million users in the US, a market size of almost $70 billion, and growth rates ranging from 4.8% to almost 10% - these sound like the descriptive statistics of a thriving and successful industry[i]. Perhaps, but consider that the underlying problem this industry is trying to solve is getting worse, not better. I'm talking about the weight loss and diet industry.
Ask anyone about successful weight loss and you'll get some combo of eat healthy and exercise in the answer – which my doctor tells me is correct. Why are we not thinner as a nation? It's because the problem is not only physical, but also emotional.
So it goes with investing. Ask your clients how to invest to hit their financial goals, and I would bet you'll generally get the right answer…stick to the plan, diversify, dollar cost average, etc. Yet according to Dalbar, investors continue to underperform the market by almost 5%, even in the age of no/low-cost investing[ii].
We at Blueprint believe successful investing, as we are told is the case with successful weight loss, is made easier with simple choices that incorporate our 'humanness' rather than ignore it. Just as repeating "eat healthy and exercise" hasn't led to a thinner nation, repeating "buy and hold" hasn't led to better investor performance.
I recently ran into a friend who had lost almost 100 pounds. I asked him how he did it – surgery, CrossFit, marathon training? To my amusement, his deadpan response was "Just little things…stopped drinking soda with meals." So, what is the investing equivalent to this? Just as drinking soda adds significant calories thereby reducing the chances of meeting your weight loss targets, allowing clients to endure major market drawdowns reduces the odds of meeting financial goals.
Our version of "cutting out soda at meals" is to use simple rules to reduce periods of consistently poor performance (downtrends) over decades and decades of market data. Below are two simulations – both involve buying the S&P 500 Index (Total Return) since 1950 when the month-end price of the previous month is above its 200-day trailing average (exponential) and selling it otherwise. In one simulation (table 1-1) we will hold cash (zero return) when the price is below the 200-day and in the second (table 1-2) we hold an intermediate US treasury note (10 year).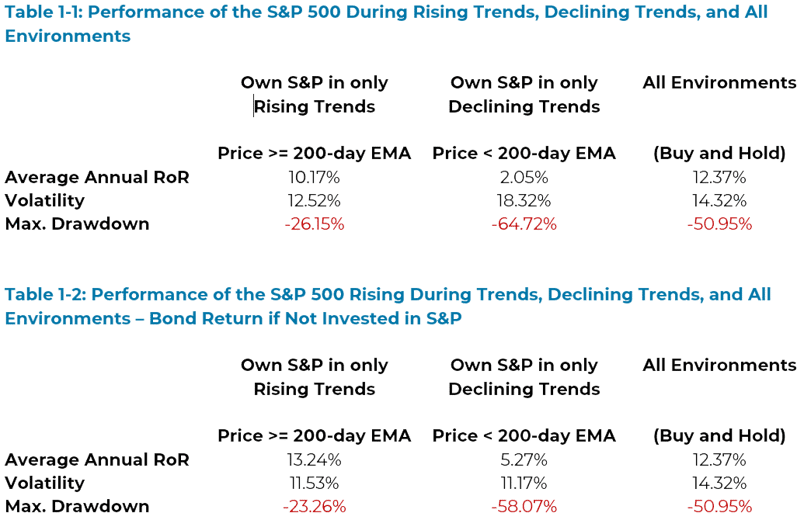 Please see footnote [iii] below for important information and other disclosures associated with the chart above.
In either case, eliminating the influence of stocks on the portfolio when equities are in a downtrend makes for a much smoother ride (i.e. reduces volatility and drawdowns) for investors and decreases their odds of overreacting to market downturns. Furthermore, replacing stocks with a non-correlated asset such as bonds leads to a superior total return. At Blueprint, we do not tell investors or advisors to "Just try harder!" When such a simple choice is available, why put our natural flight response during market stress to the test?
Make no mistake, while the evidence is easy to see, employing these tactics consistently is difficult. The average investor and even the average advisor likely won't achieve this if they try to repeat it from scratch, but that is where Blueprint comes in. The "secret sauce" for Blueprint is certainly not the 'algorithms.' What matters in meeting financial goals is consistently executing on behalf of our advisors across multiple platforms in a cost-efficient and tax-effective way. This serves as our primary value-add.
In dollar terms, weight loss products and services are undoubtedly a hit, as are financial products and services. However, CDC statistics show that the average adult is getting fatter, not thinner. Likewise, Dalbar studies show that investors continue to underperform. Whether it's investing or weight loss, you can ask anyone on the street how to succeed and you'll probably hear the "correct" answers. The 'head knowledge' is there for both topics.
So now comes your simple choice. Will you continue to "fight the good fight" with your clients, relying on a traditional, expensive, mostly static stock/bond portfolio even in the face of a 60/40 Problem? Will you continue to hope that the markets don't repeat the tech bubble or financial crisis again soon? Or, will you embrace a different approach that, like successful weight loss, recognizes knowledge is not always enough and therefore also accounts for both emotion and behavior?
---
[i]https://www.prnewswire.com/news-releases/us-weight-loss-market-worth-66-billion-300573968.html
[ii] https://seekingalpha.com/article/4109442-dalbar-2017-investors-suck-investing-and-tips-advisors
[iii] Please note that the referenced chart utilizes back‐tested performance. Back-tested performance does not represent actual performance and should not be interpreted as an indication of such performance. Actual performance may be materially lower than that shown. Back-tested performance results have certain inherent limitations. Results do not reflect actual trading in an account, so there is no guarantee that an actual account would have achieved the results shown. Such results do not represent the impact that material economic and market factors might have on an investment adviser's decision-making process if the adviser were actually managing client money. Back-tested performance also differs from actual performance because it is achieved through retroactive application of historical data designed with the benefit of hindsight. Past performance figures are hypothetical and are not indicative of future results. Market conditions can vary widely over time, all investments involve risk, and actual trading of investment recommendations will not always be profitable and can result in loss.