The movie "Moneyball" has an interesting scene in which General Manager Billy Beane is debating his scouts on how to best replace two key players lost in free agency given the team's limited budget. The scene contains a back and forth between Beane and several scouts discussing and clearly disagreeing about "the problem."
"You're not even looking at the problem", Beane declares.
Fast forward to today - at this unique point in modern financial history - with interest rates near historic lows and stocks near historic highs. Against this backdrop we wonder if advisors and investors are correctly "looking at the problem" of a potential rise in interest rates.
Since 1900, the U.S. has experienced five interest rate regimes. Exhibit A displays this full modern history of U.S. 10-year yields.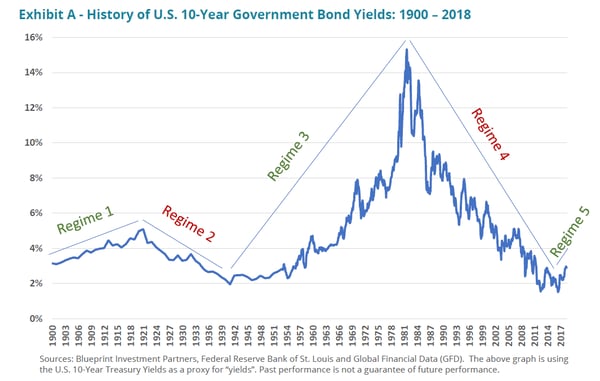 Rather than solving a new problem with an old solution, Blueprint has considerable evidence of a better way.

---
THIS BLOG IS FOR INFORMATIONAL PURPOSES ONLY AND DOES NOT CONSTITUTE INVESTMENT ADVICE OR A RECOMMENDATION OF ANY PARTICULAR SECURITY, STRATEGY, OR INVESTMENT PRODUCT. THE EXPRESSED VIEWS AND OPINIONS PRESENTED ARE FOR INFORMATIONAL PURPOSES ONLY, ARE BASED ON CURRENT MARKET CONDITIONS, AND ARE SUBJECT TO CHANGE WITHOUT NOTICE. ALTHOUGH INFORMATION AND STATISTICS CONTAINED HEREIN HAVE BEEN OBTAINED FROM SOURCES BELIEVED TO BE RELIABLE AND ARE ACCURATE TO THE BEST OF OUR KNOWLEDGE, BLUEPRINT INVESTMENT PARTNERS CANNOT AND DOES NOT GUARANTEE THE ACCURACY, VALIDITY, TIMELINESS, OR COMPLETENESS OF SUCH INFORMATION AND STATISTICS MADE AVAILABLE TO YOU FOR ANY PARTICULAR PURPOSE. PAST PERFORMANCE IS NOT INDICATIVE OF FUTURE RESULTS.