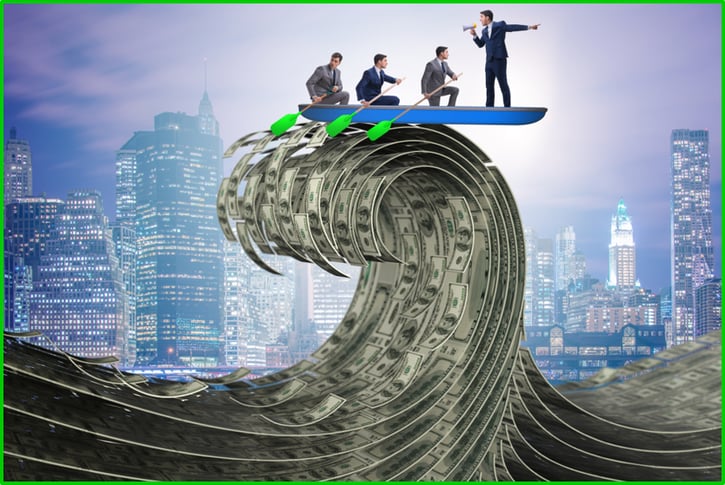 "The three greatest risk to investors: Behavior biases; loss of compounding from large portfolio losses; and the opportunity cost of being too conservative."

- Jon Robinson, Systematic Investing And The Rise Of Emotional Intelligence -


As most know, investors notoriously underperform the market by aggressively buying at the highs and selling at the lows. In fact, a DALBAR study released this week shows the average equity fund investor experienced twice the loss of the S&P in 2018. However, it is possible to conquer this reactive fear and respond effectively to the inevitable presence of market volatility.
The simple opening statement by our CEO and Co-founder, Jon Robinson, encapsulates a core belief that drives the often-fanatical effort we exert to achieve better outcomes for financial advisors and their clients. By identifying and circumventing behavioral biases through education and transparency, we are liberated to design high-efficiency, high-efficacy investment processes.
Nobel winner Daniel Kahneman, in his groundbreaking research, proved that we humans typically fear the pain of loss twice as much as we desire the pleasure of gain.
While investment advisors and financial planners deal daily with what Daniel Ariely calls "predictably irrational" behavior by clients, you, too, may be quite reluctant to encourage them to step up to another rung on the risk ladder. Research indicates that as much as "67 percent of advisors are unconvinced that increasing risk will actually lead to materially increased returns."
Can you calm clients' fear of investment risk if you fear the risk of client wrath in reaction to losses?


A Timely Warning
Howard Marks, arguably one of the world's top money managers, recommends that financial advisors focus on "defining and managing financial risk for clients or risk extinction."
He predicts automation could replace advisors if they do not become active risk managers for clients, expanding their horizons beyond pure investment performance.
Further, he questions, "Can humans do something that machines can't?" If so, advisors will stay in demand and justify charging appropriate fees. If not, Marks predicts machines will take over.
What if you could seamlessly outsource your risk management and reap the benefit for your clients?
At Blueprint, we believe you can ride the waves of risk in asset management with the principles of systematic investing.
Systematic Investing in Action
Systematic investing demands a level of rigor, clarity and consistency beyond industry standards of asset management. The framework calls for a set of precise mathematical or quantitative methodologies that differ from more commonly used fundamental processes built on narratives and forecasts. Blueprint applies systematic investing in two ways:
Primarily, we use passive vehicles—ETFs or Index funds—and mutual funds in some cases. We do so because we believe this approach is the most efficient and low-cost method to allocate capital, provided we can systematically add or remove risk by continually reallocating to funds that perform well in the current economic regimes and business cycles.
We buy and sell ETFs and mutual funds, not individual securities, and apply quantitative metrics to determine whether to go "risk on" or "risk off," not unlike the high-precision agility of a Formula 1® racecar.
Inside Blueprint's Systematic Investing Style
Behavioral finance is only one busy corner of the intersection we inhabit. Data, technology and economics also shape our constant effort to pinpoint and exploit what drives markets. To grasp our philosophy, look to these four tenets:

Blueprint focuses on asset prices rather than making predictions because we believe a tremendous latent value exists in a single data point. Consider that price represents the transformation of "could" into "did." What better indication of market behavior (good or bad) exists than how it behaves in real time? After all, account values matter most to our clients.




Our ability to preserve compounding by avoiding large losses theoretically allows us to earn more by losing less.




As much as we embrace behavioral finance, we still believe emotions in investment decisions deter, not enhance, the impact of an investment strategy. Systematic investing counters biases and discourages emotional investing. In other words, we like to rely on objective mathematics!




Our advisor-clients prefer to elevate their clients' needs above nagging concerns over the latest market research. With the rise of indexing and robos, and given the decline in investment costs, we know our advisor-clients cannot compete on investment performance alone, as Marks made clear above. There is a need for advisors to sharpen their edge in the human factors arena.
Bottom Line
It seems the mainstream approach surrounding investor emotions has long been to ignore they exist despite decades of evidence showing how these behaviors impede the ability to optimize account performance. The increased consciousness of behavioral biases is welcome but not enough. Advisors must identify solutions to match that awareness. By doing so, advisors that embrace innovative processes and partnerships for outsourcing risk management can then focus their energy elsewhere. Ideally, this time is spent on activities providing wide moats for their practices so that they are able to stand the test of time no matter what consumer trends develop next.