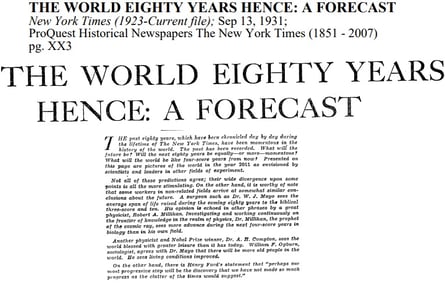 In 1931, the New York Times, celebrating its 80th birthday invited eight American innovators to predict what life would be like in 80 years. Among them, Dr. William Ogburn, a sociologist, predicted that "people will become more nervous and mental disorders will rise for a time, but by 2011 mental hygienists will probably have the upper hand." W.J. Mayo, the founder of the Mayo Clinic, said that by 2011, the average life span, then only 54, would rise to 70 (it was 78). As we have written before, market predictions are generally useless even when correct. Why is there such a fascination with predictions to begin with?


Multiple studies have concluded that the main driver for the persistence of predictions is the desire to feel control over our fate. Said another way, to combat our fears about what lies ahead, we attempt a guess about the future in the present. In fact, studies on the psychology of risk perception have found that one of the most powerful influences on fear is uncertainty. In the investment world, a prime example of uncertainty over the past 24-months is the path of U.S interest rates.


Earlier this month, the WSJ published an article outlining the results of their survey conducted in January 2019 of economists predicting where the U.S. 10-year Note rate would be in 6 months (June) and 12 months (December). The graphic below shows the predictions relative to the actual path of interest rates. As you can see, the divergence is startling, if not comical.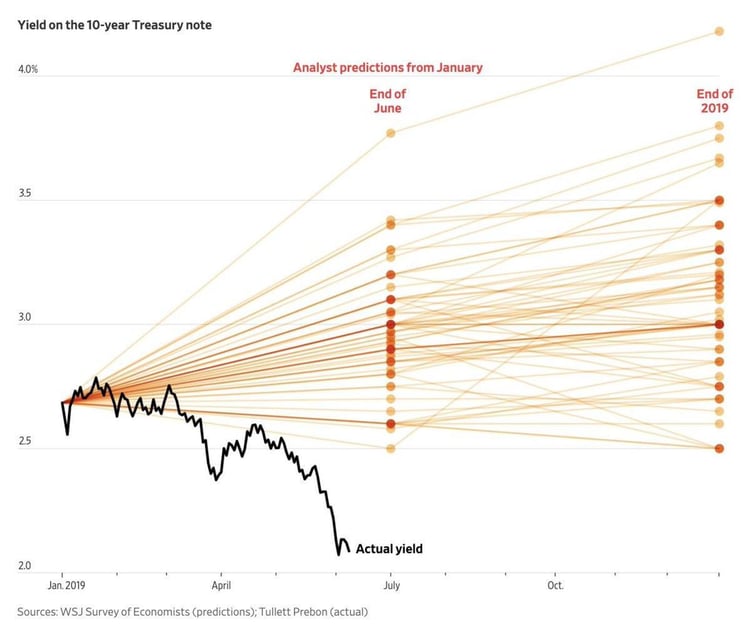 As the WSJ reports:


"Not a single respondent in January's Wall Street Journal survey of economists predicted the yield on the 10-year Treasury note would fall below 2.5% this year."



"In October, when yields on the 10-year Treasury were near their peak of around 3.2%, none of the more than 50 respondents in The Wall Street Journal's monthly survey of economists predicted yields would dip below 2.75% by June 2019. The average forecast was 3.39%."

The 10-year Treasury yield settled Monday at 2.066%, down from 3.23% in early November, the biggest decline over a similar stretch since early 2012. As rates and bond prices move in inverse directions, the graph below shows the total return of a 7-10 Year Treasury Bond ETF (IEF) since January 1. So, an asset class predicted to be a poor investment in the near-term has in fact been a great destination for investment dollars, particularly on a risk-adjusted basis.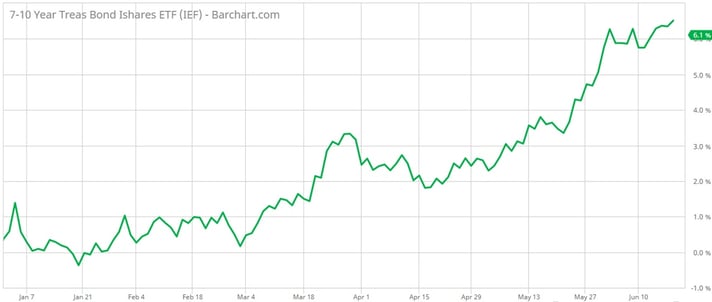 The problem with investment predictions is not that they exist, but that they continue to be entertained despite the dismal results. Perhaps the biggest flaw in giving airtime to predictions is the over-emphasis on outcomes versus processes. In fact, our process took advantage of these unexpected rate outcomes and realized the return.
Do Not Confuse Process and Outcome
So often investors focus on outcomes, and understandably so. For financial advisors and planners, success often comes down to whether or not clients achieve their financial goals. While goals are not outcomes per se, they are the output of a well-designed plan. At some point, progress towards a goal must be measured. That is when the goal becomes a reality and therefore an outcome.


Predicting the future prices of assets or interest rates has very little to do with the focused execution of a well-designed plan. While it may make clients feel more 'certain' in the moment, the danger arises in predicting when reality meets behavior. One thing is certain – investors tend to focus on near-term outcomes vs. long-term processes.




As systematic investors, we seek to understand what keeps humans from sticking to these well-designed plans. Think about how many conversations you have had where the individual(s) agree with the long-term goal and the mode for achieving it, but along the way, the short-term pain exceeds the individual's ability to stick with the plan. One recent Dalbar study highlights this when analyzing the investment outcome for the average investor in 2018 - a loss of 9.4% compared to an S&P 500 index that retreated only 4.4%. The results are staggering but not surprising.


If predictions are ultimately useless and outcomes are what matter, where should the advisor place their focus? Ironically, emphasizing process over predictions and outcomes provides the best odds of obtaining desired outcomes, in our view. And it provides a better journey along the way.
Where Focus Goes, Energy Flows
A focus on process yields better behavioral outcomes by addressing a client's fears through the investment strategy itself. Let's assume that a prediction of volatility and negative returns is accurate. These periods can influence investors to such a degree that they bail out on their well-designed process and, in the words of Will Rogers, become more concerned with "the return OF their money rather than the return ON their money." Making an emotional decision in the face of uncertainty, and abandoning a sound process due to short-term noise, has potentially disastrous consequences on long-term goals.


Michael Mauboussin noted in his book More Than You Know: Finding Financial Wisdom in Unconventional Places - "We have no control over outcomes, but we can control the process. Of course, outcomes matter, but by focusing our attention on process, we maximize our chances of good outcomes."


Predictions are good for the media but distracting for humans. Focusing on what you can control and executing the process towards goals is the highest and best use of energy and attention.


We invite you to seek fresh and customized strategies to evolve your investment approach. Visit our website at www.blueprintip.com. Or contact one of our founding partners at 1.800.765.6936.