Let's say you want to drop a few pounds or improve your physical strength. You might hire a trainer to help create a plan and provide guidance.
Now imagine your trainer wasn't just there for encouragement, but could actually do the exercise for you? That'd be a gamer changer!
That's how an outsourced systematic investment manager helps financial advisors eliminate behavioral bias and stick to the process: by doing "the exercise" for them.
This analogy resonated with me following my conversation with the hosts of the Boston Institute of Finance's Podcast.
You can listen to the full episode of the BIF Bites Podcast below.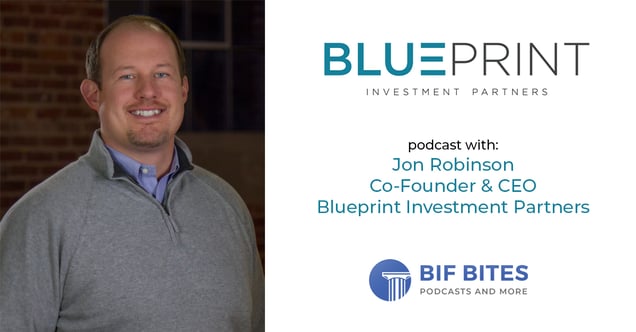 We covered a lot of ground:
An anecdote about the role an unexpected FedEx delivery played in Blueprint's origin story (skip to 15:15)


How a systematic, trend-following process eliminates behavioral biases advisors and investors may fall into when managing money, as well as provides an engine for asset allocation rather than market timing (skip to 29:55)


ESG investing, specifically our belief that it's possible to allow investors to align their passions with their investments without sacrificing risk management to get there (skip to 45:15)



Our belief that investment managers like Blueprint should engage with their advisor clients similar to how those same advisors act in the best interests of their clients — in other words, we seek to serve our advisor clients by building deep relationships at scale and supporting their practice management (skip to 51:30)
Blueprint Investment Partners (Blueprint) is an investment adviser registered under the Investment Advisers Act of 1940. Registration as an investment adviser does not imply any level of skill or training. For more information about Blueprint and our advisory services, please visit: https://adviserinfo.sec.gov and search for our firm name.
The discussions and commentary contained herein is for informational purposes only and not designed to address specific investment objectives. Opinions expressed by Blueprint personnel are current as of the date of publication and subject to change at any time, based on market and other conditions. The mention of specific securities and sectors illustrates the application of our investment approach only and is not to be considered a recommendation by Blueprint. Past performance may not be indicative of future results.