Earlier this month, Jason Zweig wrote an insightful article about Target Date Funds (TDF), which in the last year surpassed the one trillion-dollar mark in assets under management. In the piece, he provided some background on these instruments and how they have been perceived in the market. He concluded by describing the current equity exposure across some of the prominent TDF providers.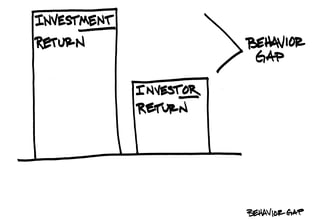 Out of all the observations in the short article, the most relevant for advisors are those around investor behavior. Zweig notes that TDFs are "built around a couple of simple but powerful ideas." The first is the blended return of stocks and bonds in the portfolio, which buffers the drop in volatile equity markets such as in December 2018 and reduces the focus on the worst performers (in this case, equities). The second is the automated (i.e. systematic or "baked in the cake") nature of these funds, which makes portfolio updates seamlessly.
The result, according to Zweig and his research, is that investors are less likely to pull their investments during turbulent periods in the market, with late 2018 and 2008 as the examples. In fact, T. Rowe Price Group reported that 401(k) investors pulled money from their TDFs at a quarter of the rate of conventional funds during the financial crisis.
This data is huge for advisors. If a practice can buffer against volatility in a systematic way, then investors remain more content and more likely to stay on track. Content clients put less strain on the practice and keep retention rates high.
Unfortunately, the data shows that TDFs are strikingly like conventional funds in terms of how they manage risk, despite their portfolio diversification and glide-path adjustments. For example, according to Morningstar, Fidelity's target funds in 2005 had 58% of their assets in stocks for investors only a decade away from retirement and 20% in stocks for those 10 years into retirement. For the pre-retirement investors using the 2015 TDF, this meant a 44% drawdown of their account value on March 9, 2009…ouch.
Now here's the scary part, Zweig notes that those same funds a decade away from retirement have responded to the long-running bull market by upping their equity allocations to 67% today! Arguably worse is that those 10 years into retirement, and thus less resistant to drawdowns, have an average equity allocation of 34%. The graph below illustrates.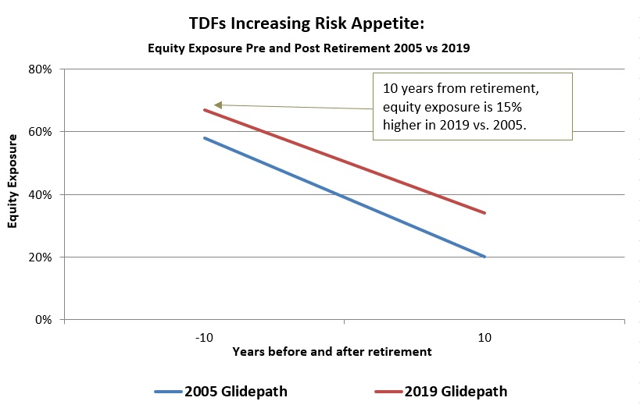 This increased exposure to historically riskier equity instruments leaves TDFs more susceptible to the next prolonged bear market than ever before. We at Blueprint believe this model is inadequate for many investors, particularly those so close to, or in retirement. Whether a total portfolio solution, a core allocation surrounded by specialty satellite allocations, or a tactical sleeve to complement a traditional portfolio, Blueprint's process is designed to support the same good behaviors as TDFs in our partnering advisors' clients, keeping them on target no matter the environment. Advisors can leverage Blueprint's process and still maintain total transparency in all respects, especially portfolio construction and the asset allocation glide-path.
So, it seems that while TDFs have provided a marginal benefit in terms of investor behavior, the mainstream investment industry is undercutting this through greed and return-chasing in the seemingly endless bull market. I fear this will end badly for many well-intentioned people. TDFs encouraging good investor behavior through the implementation of simple ideas is a great development, but it raises an important question. Will it be enough to overcome the emotion of another large, sustained decline in the equity markets? Only time will tell.
For more thoughts on ways to evolve your investment approach and reduce the impact of human behavior on investment decisions, visit www.blueprintip.com.