Have you read something like the following roughly 1,237 times in the last few months?
"Financial advisors are under immense pressure, particularly with the paradigm shift of 2020. They must provide value to their clients and differentiate themselves from other advisors."
We too see plenty of pontification out there. Well-intentioned writers, podcasters, and vloggers are doing a great job of capturing WHAT challenges advisors face. But, they usually stop short of offering answers to, "HOW?"
In this blog, we're filling the void and providing a map.
Creating Focus for Your Practice with the Entrepreneurial Operating System®
In our 10+ years of observing both best-in-class and average advisors, we've seen that elite advisors are more likely to embrace change, and they're constantly seeking new ways to do their job more effectively. This was a point of emphasis in our whitepaper, The Elite Advisor Playbook.
If you're an advisor who wants to improve efficiency and scale within your practice — maybe this was even highlighted as an area of opportunity for you in the "Are You An Elite Advisor" quiz — you're in the right place.
You and I both know that staying vigilant about constant, never-ending improvement is no easy task. And without a strategy, it's nearly impossible.
To help with the strategy piece of the puzzle, we're rolling out a model to help you — as well as your partners and senior leaders — get aligned around HOW to become or strengthen an elite advisor practice.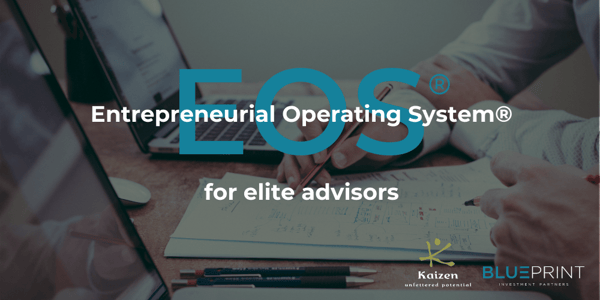 The Entrepreneurial Operating System (EOS) is a set of simple concepts and practical tools that readily apply to a financial advisor practice. The model has helped thousands of entrepreneurs get what they want from their businesses, as outlined in the book Traction by Gino Wickman.
We partnered with our friend and coach Ray Reuter to hone the relevance of this model for financial advisors. Ray is a talented business coach, facilitator, and trainer with more than 20 years of experience — both independently and by launching his own practice, Kaizen.
Next Step: Take A Deeper Dive Into EOS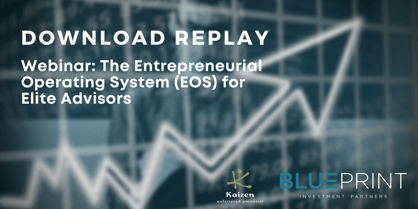 To introduce the Entrepreneurial Operating System and its relevance for advisors, we held a webinar with Ray. The replay is available for download.
The webinar robustly defines EOS, demonstrates how it is an optimal model for advisors seeking to build or strengthen an elite practice, and details the model's ability to:


Ensure everyone on your team is 100% on the same page about where you're going and how you plan to get there



Instill focus, discipline, and accountability throughout the company so that everyone executes on the vision every day





Confirm your business has the right people in the right seats



Define key metrics for consistently monitoring the health of your practice



Provide a framework for your leadership team to identify, discuss, and solve questions, disagreements, and issues relevant to the business



Encourage the documentation and consistent following of high-impact processes necessary for effective business development, client relations, financial planning, investment/wealth management, and compliance operations



Gain traction for your practice by setting highly achievable quarterly priorities and establishing a consistent cadence for internal communications


Talking the Talk, Walking the Walk
Candidly, the Leadership Team at Blueprint can relate to how overwhelming it feels to start a journey down the path to building a better business. There's an abundance of books, courses, and experts that all claim they can solve your problems.
We're not saying they can't. In fact, our bookshelves are well-stocked with titles that have helped us think in new ways about how to grow strategically, cultivate a team of experts, and enhance performance psychology. Yet, none of the resources we turned to in the past really stuck until we started working with Ray to implement the Entrepreneurial Operating System within our firm. Consistent with our message to investors, repeatability and discipline are the keys to success.
We had been employing lots of tactics, such as implementing technology to help us with marketing, systems to support trading, and other platforms for client management. But, they didn't all "talk" to each other very well. More importantly, they were tools, not strategy. This reminds me of a quote in The Art of War which says that strategy without tactics is the slowest route to victory. And, tactics without strategy is the noise before defeat.
The model Ray introduced us to has helped us achieve better focus on the high-leverage, mission-critical activities of our business. We're working on spending our time only on those things, while looking to outsource, partner, or leverage technology solutions for anything that falls out of bounds.
I don't mean to make this about us, because it's not. It's about you and helping you take your practice from good to great. But, I thought it was worthwhile to show how, in this area, we're eating our own cooking.
Creating Focus
Becoming elite is difficult, staying there perhaps even more so. That's what makes an operating system so vital, since it creates focus. We hope you will watch the webinar replay to see how it can help you.
As Al Ries said in his book Focus, mere sun tan lotion can neutralize the impact of billions of watts of energy being unleashed by the sun, but focus that light and you can cut through diamonds and steel.


---
Blueprint Investment Partners is an investment adviser registered under the Investment Advisers Act of 1940. Registration as an investment adviser does not imply any level of skill or training. The oral and written communications of an adviser provide you with information about which you determine to hire or retain an adviser. For more information please visit adviserinfo.sec.gov and search for our firm name.
Information contained on third party websites that Blueprint may link to are not reviewed in their entirety for accuracy and Blueprint assumes no liability for the information contained on these websites.

Opinions expressed in this commentary reflect subjective judgments of the author based on conditions at the time of writing and are subject to change without notice.

No part of this material may be reproduced in any form, or referred to in any other publication, without express written permission from Blueprint.