Like the networks in the summertime who replay their episodes to recycle good material, I thought a revisit of the much discussed and maligned DOL Fiduciary Rule was in order due to its recent vacating by the 5th Circuit Court in New Orleans. With or without the rule, it is time for the industry to step up!

RERUN: Post from one year ago – Growing Up to be a Fiduciary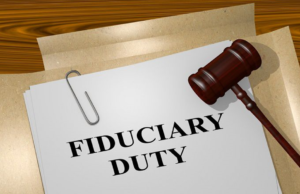 As you may recall, the industry authorities have avoided this issue for years. Former SEC Chair Mary Jo White took the stance that SEC registered advisors were already acting as fiduciaries, and really did not need a rule. This is of course complicated, because most of the issues are on the broker dealer side of the business, which happens to be where most of the DOL Rule complaints and lawsuits came from. Oh, and by the way, the broker-dealers are self-regulated by FINRA. Immediately in the aftermath, these firms have restored trading in retirement accounts and eliminated a number of policies designed to comply. It was argued the rules were bad for small investors, but I really do not believe this was the motivating factor.
The good news is that the SEC finally voted in April to propose a package of rules that will focus on retail investors and be known as the "best interest" rule. Clever. This is classic bureaucracy at its best, mainly because in 2010, the Dodd-Frank Act authorized the SEC to do just this. The Department of Labor rule was a deliberate work around for the SEC's lack of action, and ultimately was determined to be 'regulatory overreach' by the courts.
What is important here is that the weak links in the investment advisory industry have been exposed. Investors are asking questions never before asked, and the standard of conduct has improved in response.
As I wrote last year, investors should expect their advisor to act in their best interest as a fiduciary. In spite of the court ruling, I believe we have moved closer to that objective. Time, consistent investor demand, and perhaps some belated SEC action, will move the needle even further in the years to come. We will have to wait and see if FINRA gets behind the SEC.
But at the end of the day, the industry really should take a hard look in the mirror and simply grow up! It is time we all became fiduciaries – with or without a rule.
---
Sources: Investopedia (image), NY Times, Bloomberg
For more thoughts on ways to evolve your investment approach visit www.blueprintip.com