On June 3, 2017, rock climber Alex Honnold completed the first-ever free solo (ahem, no ropes) of Yosemite National Park's epic El Capitan. Recently I had the chance to watch the documentary,
Free Solo, a gripping story about Honnold's successful journey to scale El Cap.
Accomplished climber Tommy Caldwell explained the achievement to non-climbers like me in National Geographic: "This is the 'moon landing' of free soloing." The film is fascinating on many fronts and I would highly recommend it. One word of caution, if you are afraid of heights you might consider enjoying it with someone or something to calm your nerves as the breathtaking visuals are… intense.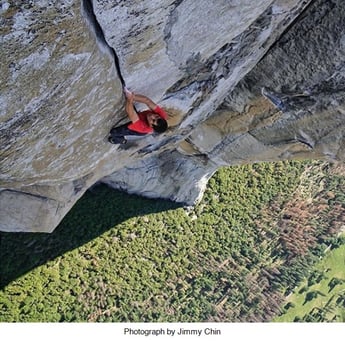 Besides the stunning views and cinematography, I was also struck by the candid view Alex (nicknamed "No Big Deal" for his self-effacing attitude) provides on what it takes to accomplish something truly unique and daunting such as climbing one of the most difficult surfaces in the world without safety equipment of any kind. In short, his focus on process and preparation allows him to overcome the otherwise debilitating fear. You see, what makes Alex special is not some physical or psychological trait. He was not born with a special proclivity for climbing nor does he have a death wish.
Alex's uniqueness is signified by his meticulous study of the mountain and rehearsal of each and every move that will be needed to navigate it successfully. Here's how he describes the process, discussing the particular route he would take to scale El Cap, called "Freerider."


"Years ago, when I first mentally mapped out what it would mean to free solo Freerider, there were half a dozen of pitches where I was like, 'Oh that's a scary move and that's a really scary sequence, and that little slab, and that traverse,'" Honnold said. "There were so many little sections where I thought 'Ughh—cringe.' But in the years since, I've pushed my comfort zone and made it bigger and bigger until these objectives that seemed totally crazy eventually fell within the realm of the possible."
Getting a grip on emotions
I cannot help but consider the parallels between climbing and investing. While planning for retirement does not carry the immediate life and death consequences of 'free soloing', it does have life altering impacts if not handled appropriately. Both activities are also adversely affected by emotion. In fact, our biological engineering toward risk avoidance works against us whether climbing or investing. A fellow climber puts it best when describing a previous free solo climb by Alex:


"What Alex did on Moonlight Buttress defied everything that we are trained, and brought up and genetically engineered to think," said Peter Mortimer, a climber who has made numerous films with Honnold. "It's the most unnatural place for a human to be."


I think this appropriately describes the experience of investing, particularly during turbulent market environments. Sitting through deep, prolonged drawdowns while trying to stick to your plan is akin to hanging on the face of a cliff without a harness. Both activities are, in a word, unnatural.


So, what is the remedy? Like Alex, we believe in meticulously developing a process through careful study and examination to overcome the adverse effects of emotion. We then codify, rehearse, and prepare our minds to follow that process no matter what. Over time and with experience, we enlarge our comfort zone to the point we are able execute our system boldly in the face of uncertainty and discomfort to help clients meet their goals.


Unfortunately for fellow rock climbers and enthusiasts, there is no way to leverage Alex's preparation to experience a free solo climb on El Cap; we will simply have to settle for a wonderfully made film. On the other hand, advisors can take advantage of our study and discipline for a confident climb toward meeting their client's goals.


Investing and climbing can both be scary but that does not mean they are impossible to accomplish. Certainly, the stakes are not as high with investing as attacking El Cap without a rope, but they remain of the utmost importance to those charged with protecting legacies or funding precious retirement nest eggs. We approach our advisor partnerships with the same ferocity and preparation needed to scale a mountain. Just like there are no do-overs in free solo climbing, there are also no do-overs in investing.
---
For more thoughts on ways to evolve your investment approach and reduce the impact of human behavior on investment decisions visit www.blueprintip.com.