The announcement by Fidelity Investments on August 1st provided the culmination of a trend long in the making. Coincidentally, it is also an idea we have discussed privately for many years, and publicly in this blog since last year – FREE BETA. In what is being hailed as a shocking move, Fidelity has announced the unveiling of two new index funds with a ZERO expense ratio. Vanguard and Blackrock have been offering practically free beta through their ETFs and index funds for years now - but practically free is not free!
Blueprint's roots lie in the absolute return, alpha-obsessed world of alternative investments and derivatives. For this reason we often marvel at the willingness of Advisors to expose their clients to overpriced beta. As our regular readers will recognize, we see three unequivocally positive developments in the financial markets: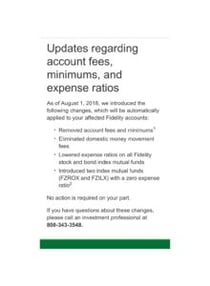 I. The rise, however misguided, of robo-advisors due to the emphasis on technology.
II. The strengthening expectation of the Advisor to act as a fiduciary.
III. The downward pressure on costs - both in terms of expense ratios and trading costs.
In an unfortunate twist, however, the advisory world continually fails in maximizing the benefit of these developments. In particular, the improvements in technology and resulting reduction in costs provide a prime environment for Advisors to deliver alpha on an ever-increasing scale for their clients. And yet, there is little evidence that Advisors are any more adept at turning a variable input, namely market performance, into a reliable deliverable for their clients - that is to say, meeting financial goals…particularly in the face of bear markets.
For Advisors, technology is only useful when leveraged properly, and a reduction of cost does not necessarily equal an increase in value (or profitability). However, when these elements are combined with the right service model it creates a compelling package for existing and prospective clients. Our primary objective at Blueprint is to deliver these advantages and fuse the benefits of technology and lower costs to deliver a powerful investment solution.
It will be interesting to observe the ripple effects of this move by Fidelity. No doubt the downtrend in the cost of investment manufacturing will continue. For those competing on price only, these are uncertain times. For those using these tools to generate value, it is yet another step in the right direction.
---