I'll start off by saying that prior to joining Blueprint, I was nicknamed "MC Spammer."
Yeah, that's right.
It was funny…at first.
In fact, I joined Blueprint because I knew there had to be a different way of engaging and partnering with advisors: no scripts, no "hard close," just creating value, and permitting interested advisors to reach out to us. But, for this approach to work, buy-in and patience is required – everyone on the team must be onboard.
Whole-sal-er (noun) – a person or company that sells goods in large quantities at low prices, typically to retailers.
The Writing Was on the Wall PRIOR to Covid19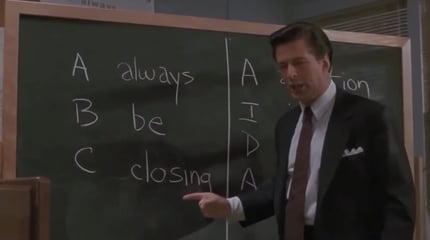 Prior to coronavirus, a [large] portion of financial wholesaling was stuck in the 90's with steak dinners, phone scripts, and "hard closes". At the same time, asset management itself had been majorly disrupted by the advent of model portfolios, free trading, robo's, and no fee ETF's. The dichotomy just did not make sense.
The rules of the pandemic forced some very new and difficult conditions on wholesalers and their traditional sales process. Besides accelerating the migration away from opaque, wholesaler-friendly products to transparent, investor-friendly instruments, the pandemic has also limited mobility, keeping wholesalers indoors and removing face-to-face interactions.
It was already difficult to engage advisors in a live conversation, and the Zoom environment is not a perfect replacement for in-person meetings. Advisors avoid us. Am I right? You know who you are. And it's only become more challenging since COVID-19 began.
One of the likely reasons for the difficulty in wholesaling to advisors is that investment products have become so commoditized. There is a multitude of similar products and platforms vying for the same, increasingly less engaged, audience. Plus, with the equity markets (prior to Covid19) virtually going straight up since the 2008 "Great Recession," many advisors have wisely focused less on adding value through investment management and more on financial planning / client relationships. Alpha now comes from the human and service side of the practice, which we recently highlighted in our Elite Advisor Playbook.
"Hey Sales Manager, 1995 called and they want their Approach Back"
At some point sales leaders for asset management firms who grew up in the industry through the 80's, 90's, and early 2000's will retire. And they'll take their phone scripts and hard sales pitches with them.
That's the easy part. A no-brainer.
Even prior to joining Blueprint, one question I pondered was "How do you actually get a value-add message through an endless sea of product pitches?" Of course, everyone thinks they have the value story, the diamond in the rough. The reality? There isn't a "pitch" that a seasoned advisor has not already heard. That is why most asset manager emails "get filed under 'G[arbage].'"
Enter Blueprint and Modern Marketing
Blueprint believes that the asset manager of tomorrow will need to do more than just build strategies and products. To survive in an industry where 75% of asset flows go to 1 of 5 companies, we will need to truly be different and add value for advisors and their clients. This is our primary objective.
At Blueprint our first principles are: communication, transparency, and education. But what makes us different is that our actions truly speak louder than words which is why each month we publish exactly what is happening in our portfolios and why. Next, we challenge the status quo by objectively questioning beliefs that so many investors hold sacred, like Missing The Top 10 Days MYTH.
And there is a difference between marketing through thought leadership and sales. Blueprint is unique in that we help many independent advisors stay connected with their clients. Client communication is an area where many advisors fall short, and Blueprint stands in the gap with content. Partnering with advisors to provide blogs, white papers, and video content is one way that Blueprint accomplishes the objective of marketing by adding value, versus selling the old-fashioned way.
Blueprint's Promise
This is what attracted me to Blueprint: We challenge "What Is," which is not easy to do. On the other hand, being static is not an option. So, when the conflicts, the monthly commissions, and the sales goals are removed, we can truly begin to focus on what matters most: educating and providing value.
We ask that if you find something of value from Blueprint of further interest, allow us to share our full value proposition: no strings attached (we promise). And if you still prefer to avoid interaction with a "sales" person - ask about a video / recorded webinar from our library and we can go from there. It's your call. We have made the advisor the hero in this story, not ourselves. And we won't have it any other way.
So, if you've made it this far, thank you for reading. I would love to have your thoughts and feedback.
Click Here To Receive Our Monthly Updates
---
For more thoughts on ways to evolve your investment approach and reduce the impact of human behavior on investment decisions visit www.blueprintip.com