The investment industry is facing a "60/40 problem". Over the past several decades, advisors have leaned on the 60/40 portfolio to deliver a less-volatile, but still relatively reliable return for balanced investors due to their lack of tolerance for the volatility and drawdowns of a pure equity allocation. While the addition of bonds to an otherwise non-diversified portfolio of equities does indeed reduce the beta of the overall portfolio, the correlation to equities remains high given that "the 60" has been 3 times as volatile as "the 40." In our view, the 60/40 problem boils down to an underestimation of future risks for both bonds and stocks. Rather than solving a new problem with an old solution, Blueprint has considerable evidence of a better way.
Historically the trade-off between equities and bonds has conformed to intuition and been in sync with financial theory – as rates fall, bond prices increase and stocks become more attractive on a relative basis. Investors during interest rate regime changes were left with a relatively simple choice – bonds near new highs or stocks near new lows…or the converse. With U.S. stocks and bonds both at or near all-time highs, the choice today is significantly more complicated. At this juncture, investors are confronted with a changing interest rate landscape following an environment where equities and bonds have both generated Sharpe ratios above their full sample average. Could rising rates cause an economic crisis? Could equities and bonds continue to rise in tandem? What is an advisor to do in these uncertain times? Our answer at Blueprint utilizes traditional asset class diversification while also incorporating time diversification or trend following.
Using simple models to show the robust properties of this approach, we tested the effects of utilizing a trend following model applied to a 60/40 portfolio during each of the U.S. interest rate regimes vs. buy-and-hold. Using 8 and 12 month moving averages (T8 and T12 respectively), we analyzed the absolute and risk-adjusted returns to determine if the addition of trend following could benefit a traditionally allocated portfolio during rising and/or falling rate environments. The two trend following strategies included a 20% buy-and-hold component and 80% trend following component. The buy-and-hold component was included to allow for the benefits of asset diversification as well as to guard against investors making emotionally-charged decisions impacted by Availability and Hindsight biases. Regarding trend following strategy rules, when the most recent month's closing price was above the moving average, the asset was determined to be in an uptrend. When the most recent month's closing price was below the moving average, the asset was determined to be in a downtrend. Allocations were then shifted from downward trending assets to upward trending assets or cash.
We found that applying a trend following strategy to a 60/40 buy-and-hold portfolio improved the risk-adjusted performance across every interest rate regime since 1900. Exhibit A below displays a summary of the Sharpe Ratios for each period.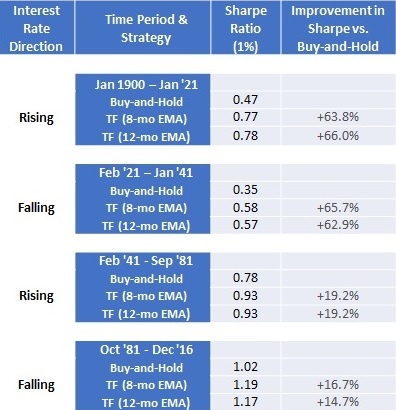 Past performance does not guarantee future results.
Looking specifically at rising rate environments, trend following allowed an investor to achieve higher risk-adjusted returns without having to make a prediction about, or be beholden to, future bond yields or stock returns. Looking at falling rate environments, including the two largest financial crises since 1900, a trend following strategy allowed investors to sidestep a significant portion of the maximum drawdown and achieve higher Sharpe ratios in the '29-'31 (Great Depression) and '07-'09 (Great Recession) periods by shifting exposure away from equities and toward bonds or cash. Again, these shifts required no predictions – they resulted merely from a simple strategy driven by data.
At Blueprint we believe that investing with discipline is more important than investing in instruments. Adding a trend following strategy to a buy-and-hold portfolio has increased positive outcomes on both an absolute and risk-adjusted basis in both rising and falling interest rate environments over the past century. Advisors and investors should have a time-tested plan by which to operate in environments that mirror and, most importantly, do not mirror the past. Given the historical uniqueness of the current period for traditional asset classes, we encourage advisors to explore incorporating efficient, robust risk management processes to solve their 60/40 problem.
For more Blueprint research on this topic, click here.
Our research and analysis may only be quoted or redistributed under specific conditions:
Blueprint has been consulted and granted express permission to do so (written or email)
Credit is given to Blueprint as the source
Content must be taken in its intended context and may not be modified to an extent that could possibly cause ambiguity of any of our analysis or conclusions.
Past performance does not guarantee future results.
---
This website and the data herein is not a solicitation to invest in any investment product nor is it intended to provide investment advice. It is intended for information purposes only and should be used by investment professionals and investors who are knowledgeable of the risks involved. No representation is made that any investment will or is likely to achieve results comparable to those shown or will make any profit at all or will be able to avoid incurring substantial losses. While every effort has been made to provide data from sources considered to be reliable, no guarantee of accuracy is given. Historical data are presented for informational purposes only. Investment programs described herein contain significant risks. A secondary market may not exist or develop for some investments portrayed. Past performance is not indicative of future performance.
Investment decisions should be made based on the investors specific financial needs and objectives, goals, time horizon, tax liability, risk tolerance and other relevant factors. Investments involve risk and unless otherwise stated, are not guaranteed. Be sure to first consult with a qualified financial adviser and/or tax professional before implementing any strategy discussed herein. Investors should consider the underlying funds' investment objectives, risks, charges and expenses carefully before investing. The Advisor's ADV, which contains this and other important information, should be read carefully before investing. ETFs trade like stocks and may trade for less than their net asset value. Blueprint Investment Partners, LLC ("Blueprint" or the "Advisor") is registered as an investment adviser with the United States Securities and Exchange Commission (SEC). Registration does not constitute an endorsement of the firm by the SEC nor does it indicate that the Adviser has attained a particular level of skill or ability.
Indexes are unmanaged and do not incur management fees, costs, and expenses. Blueprint's risk-management process includes an effort to monitor and manage risk, but should not be confused with and does not imply low risk or the ability to control risk. There are risks associated with any investment approach, and Blueprint strategies have their own set of risks to be aware of. First, there are the risks associated with the long-term strategic holdings for each of the strategies. The more aggressive the Blueprint strategy selected, the more likely the strategy will contain larger weights in riskier asset classes, such as equities. Second, there are distinct risks associated with Blueprint Strategies' shorter-term tactical allocations, which can result in more concentration towards a certain asset class or classes. This introduces the risk that Blueprint could be on the wrong side of a tactical over-weight, thus resulting in a drag on overall performance or loss of principal.
International investments may involve additional risks, which could include differences in financial accounting standards, currency fluctuations, political instability, foreign taxes and regulations, and the potential for illiquid markets. Investing in emerging markets may accentuate these risks.
Diversification strategies do not ensure a profit and do not protect against losses in declining markets.