692 words – Reading Time about 3 minutes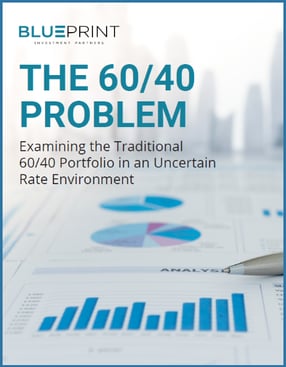 Last week Bank of America boldly announced, in a research note no less, "The End of 60/40." I am shocked they find this newsworthy, much less a topic that requires a dedicated research note. Must be a slow week… Proudly, the Blueprint team has been researching and writing about this topic since 2016, and sincerely believe we originated the phrase The 60/40 Problem back then. Anyone that has visited our website has seen this banner link to a white paper written in April 2016. If you want to get the team really fired up, just ask about the topic. Today though, I thought I would share the more practical Cliffs Notes version to refresh the uninitiated.


Old Solutions vs. New Problems
Essentially, the world has been in a declining interest rate environment since 1981 – that is almost 40 years folks! The old theory behind a 60/40 blend is simple – Stocks and Bonds are likely to move in opposite directions during times of volatility, so holding both provides a buffer against volatility without sacrificing returns. In the past, the addition of bonds to an otherwise non-diversified portfolio of equities did indeed reduce the beta of the overall portfolio. Today however, bonds offer at best low expected returns, and at worst very high correlation to equities. We argued in our April 2017 blog that the utility of a 60/40 portfolio has gone the way of Landlines and Eight-Track tapes. It may still work, but it will not be an enjoyable experience.


Competing Objectives
Advisors have long faced the challenge of providing a more predictable and lower volatility investment experience for their clients. Today, this objective stands directly in the way of helping clients achieve their financial goals – expected returns of a 60/40 portfolio are not compelling. The industry has been managing return expectations down for decades, and has embraced strategies such as lower withdrawal rates, non-correlated alternative investments, managed futures, etc. But these tactics have their limits. Implementation of alternatives, for instance, is operationally challenging for many advisors and raises the level of due diligence required to build portfolios.


A Better Way
Over time, as the 60/40 portfolio has become highly correlated to the S&P 500, it has become evident that the allocation does not provide the diversification necessary to improve expected returns going forward. While we still firmly believe in asset diversification, our studies have shown that by adding time diversification to the portfolio, the allocation can include a higher exposure to equities (risk) without adding uncomfortable volatility. Most importantly, this higher exposure improves expected compounded returns and increases the probability of investor success.


A Win-Win Situation for Investors
There are two challenges investors face long term. One, the traditional portfolio strategy they are utilizing will not allow them to achieve their financial objectives due to low expected returns. And two, the strategy itself may not support the investor in terms of the obstacle all humans face during times of volatility – the inclination to abandon an otherwise valid investment strategy.
Blueprint has dedicated itself to providing strategies that, through the benefits of risk management via time diversification, allow investors both a higher probability of achieving their return objectives AND staying with the plan long term. We call this Emotionally Intelligent Investing.


Seeking a New Approach?
If you are an advisor whose best investment technology involves a traditional 60/40 portfolio, it may be time for a change. Otherwise your clients may make that decision for you. If you are an advisor that sees The 60/40 Problem as a metaphor for the overall industry challenge of allocating to assets that do not provide the volatility, correlation or diversification they have offered in the past, you may also need a change. We love talking about this subject and would be happy to share our thoughts and our research.
Either way, we do agree with the belated 'research' from B of A – the traditional 60/40 portfolio has reached the end of its useful life.
For more thoughts on ways to evolve your investment approach and reduce the impact of human behavior on investment decisions visit www.blueprintip.com